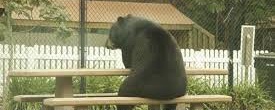 Apart from the world going to hell, you know that other private thing you think about constantly when you're alone these days?
Well, that's all part of this planetary lineup in Capricorn business. A private problem is definitely surfacing and bugging the bejesus out of you. You've got to try to see the outcome as successful.- -Which it will be, if you refuse to project disaster or allow fear to swallow reason.
No matter what your sign or planets, you've got to use the one really great power of Capricorn: to deal with life in the Here and Goddamned Now.
So just decide you're going to handle it and handle it.