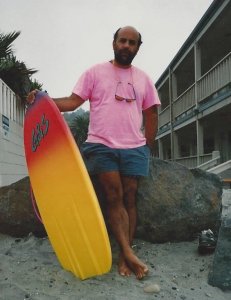 VIRGO PISCES FULL MOON
The terminator line between reality and fantasy is blurred. It is vital at least to attempt to sort out rationally the events of the last several weeks.
God knows I've been hounding everybody to be alive and aware of the fact that your life has moved or rather you have been moved by the Solar Eclipse.
At the moment of this Full
Moon in Pisces it's clear that you have to at least try to sort out confusion from fact and make sense out of the mess.
I shouldn't say mess because there's room for chaos in this world even though it is often imposed upon us.
Sometimes it comes from the external world and the people and relationships we have going, and sometimes it lies in the environment around us, which seems to be falling apart.
But the Sun opposite Neptune,
Concurrent with this Full. Moon in Pisces, brings the Transit of Neptune in Pisces once again into very blurred focus.
When I went to learn surfing at surfing school a few years ago, I was unanimously voted
the world's worst surfer.
One thing I did learn: My teacher told me to love the ocean, embrace the ocean, respect the ocean, but never turn my back on the ocean.
With Neptune its the same way.
So accept the fact that you're only half crazy, embrace your emotions, love your emotions, respect your emotions, but don't turn your back on them..
Regular readers of
Michaellutin.com
must certainly have their Neptune in Pisces message by now.
We first offered it quite a while ago when Neptune entered that sign.
   If you  dont have it yet,
Get it now.